Rochester, NY, December 12, 2017 — CyFlare has announced its strategic partnership agreement with Phantom, the leader in Security Automation & Orchestration.  The companies are working together to enable Value Added Resellers, integrators and clients to sell, service, integrate, monitor and manage a full security stack remotely from the CyFlare Security Operations Center. CyFlare is committed to invest in app development and advanced Security Automation & Orchestration professional services to ease the burden on client staff.
"Most clients have dozens of security tools and limited staff. It is not enough to have those tools and expect resource constrained teams to effectively manage those systems proactively or rapidly respond to security issues. Our strategic alliance with Phantom brings the possibility of coupling a 24×7 Security Operations Center and a fully automated security stack to clients of all sizes. " Says Douglas Mannella – VP Sales & Business Development.
Responding to security incidents requires collaboration across different IT, network and application domains, business units, and stakeholders. Security teams struggle to establish repeatable and measurable processes to investigate and effectively respond to incidents. Security Automation & Orchestration products and services can help address these challenges through automated support for investigation and remediation, and through external expertise to augment the security staff.
"We're pleased to be working with CyFlare." said Eric Hoffman, Director of Channels at Phantom.  "CyFlare's security expertise is already resulting in Phantom Playbooks and Apps to help clients work smarter, respond faster, and strengthen the defenses of their security infrastructure by automating repetitive tasks associated with detection, investigation, and response.
Sample Automation Cycle: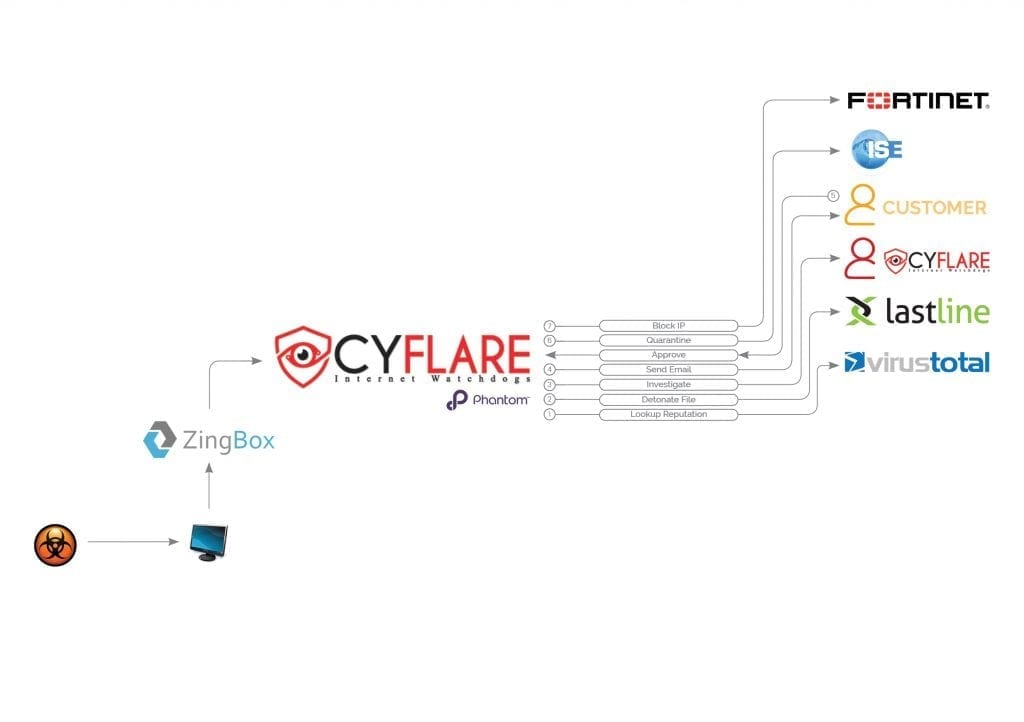 About CyFlare:
CyFlare is a 24×7 Cyber Security Operations Center purpose built to enable Value Added Resellers, security partners and security vendors with Monitor, Detect and Respond (MDR) services either as powered by or as a white label service. CyFlare enables VAR's who cannot afford to invest or don't have the desire to focus on building those capabilities. It offers these benefits with no up-front investment or expertise required. CyFlare offers a wide array of other managed security services on mainstream vendor security solutions to augment partner capabilities

About Phantom:
Phantom is the leader in security automation and orchestration. It integrates your existing security technologies, providing a layer of connective tissue between them. The Phantom platform helps you work smarter by automating repetitive tasks, effectively force multiplying your team's efforts and allowing them to focus their attention on mission-critical decisions. It also helps you respond faster and reduce dwell times with automated detection, investigation, and response. Using Phantom helps you strengthen your defenses by integrating your entire security infrastructure together so that each part is actively participating in your defense strategy. For more information visit: https://phantom.us/.
# # #
If you would like more information about this topic, please contact Martha Mattei at 877.729.3527 or email at [email protected].